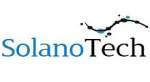 About
SolanoTech is addressing the rapidly expanding market for Next Generation Network Management solutions including Service Management and Assurance, Customer Experience Management, Subscriber Management, End-to-End Session, Mobility and User Plane Traffic Monitoring, OSS Transformations etc. and the need for reliable control and user interface systems for these solutions.
SolanoTech also specialises in end-to-end IPTV consulting to system integrators, operators and enterprises.
We are professional, competitive and competent in our service
Founded by Telecom Industry experts with extensive experience in fixed, mobile and wireless networks, the Company has specialist expertise in blending competencies in Java enabling technologies, IPTV, Next Generation Networks and Telecom Web Services.
Send Message to listing owner