In case you haven't heard, Roscommon made history in Killarney this weekend after beating Kerry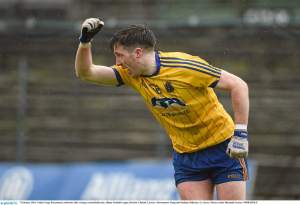 away from home for the first time ever.
The significance of the win was not lost on national media, whose league coverage this week has largely been topped with the Rossie victory.
Cathal Cregg has been recognised for his Trojan effort in getting his team past the finishing line.
He sailed past Donegal's Odhran MacNiallais and Dublin's James McCarthy to win the GAA Player of the Week award.
Describing Roscommon's victory as "stunning", GAA.ie noted the Western Gaels man was "outstanding" and "immense".
"Cregg may have been black-carded in the 61st minute, but prior to that no other Roscommon man was his equal – Seán McDermott gave him a run for his money in defence – in terms of the leadership he showed in trying conditions, while the four points he scored from play were instrumental in a narrow win.
"Cregg is the undisputed leader of a young Roscommon side and he stepped up to the plate spectacularly to help deliver an unexpected but hugely deserving win on the road. He romped home with 42 per cent of our vote."
In The Irish Times, Sean Moran notes "the win wasn't a flash in the pan but another milestone for the county".
In the Irish Independent, Colm Keys says "the lift in spirits that they will get from this victory will be incalculable… the day belonged to Roscommon, who made a statement about their intent to remain a top-flight team."
Ian Cooney, Sports Editor in the Roscommon Herald, tweeted that it was a "performance to be proud of".
Meanwhile, Cathal Cregg reigns in the over-excitement telling the Irish independent: "We will probably need to win another two games to stay up (in Division One), which will be a big task for us".