Journalist Niamh Towey, a member of the Club Rossie Team, caught up with Joint manager of the Men's Senior Football Team, Kevin McStay, following last night's Team Announcement and he spoke about the win against Kerry, the impact of injuries ahead of Sunday's match against Cork and the different that your Club Rossie contribution makes.
That historic win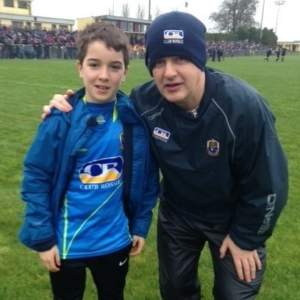 The win against Kerry in the last round has "given everything a lift," says McStay. "Training has been a lot easier in the interim. Even if we get a bad result I know we are going down to Cork as well prepared as we can with the players we have".
"The only downside was the break, we could have done with a game again the following week to benefit from the surge we got from beating a big power like Kerry."
"We were very hopeful of a big performance and of taking our chances with 5 or 10 minutes to go. That's essentially how it panned out against Kerry and that's how it's going to be for every game really".
He has encouraged players to celebrate the big win, because "this is where they want to be. They want to be playing in the big stadia around the place, they want to be on TV, they want to be in the public interest".
"That's great and I absolutely encourage them to surf that, as long as egos don't develop.
"We do keep an eye out and make sure that no one gets ahead of themselves, because that's no good for anyone."
Injuries
There had been hopes of having a number of players back in the mix for Sunday's game, but that has not panned out as planned.
"We hoped to get fellas off the medical table back into contention for starting the Cork match, but unfortunately we only got one back – Senan Kilbride. We lost out on three or four others that we were looking at starting – Niall Kilroy, Diarmuid Murtagh, Ultan Harney; It's unlikely that we'll see them starting for another few weeks yet."
Cathal Shine is back in the match day 26, but will likely only contribute minutes rather than a full game as he "has not got the conditioning back for that yet".
That said, there are quite a number of players lingering on the injured list who we possibly won't be seeing back for quite a while yet – something McStay urges supporters to have patience with.
"We are playing nobody that's in any way injured, it's just not going to happen. We made that decision four months ago as management.
"There's no rush back – long term is way more important for themselves individually and for us as a group. The day of lads playing injured for Roscommon, as far as we're concerned, is over."
"The championship is the long term goal and we need to have our best players available. At the moment we don't have the full deck."
"A lot of them are our better players and our young stars in many respects. They may come through this year or they may not, but I would say to anyone who is following us, you're going to have to be patient.
"We have a lot of serious long-term injuries, 5 or 6 of them that may not even make it this season. Other lads who we mightn't see until May or June.
"All these guys are in the background, they're still in the mix but unfortunately we just can't get our hands on them.
"Diarmuid Murtagh, Donie Shine, Donie Smith, Ciaran Cafferky, Kevin Higgins, Cathal Compton, Tom Corcoran, Niall Kilroy, Niall Carty, Mark Healy – I hate doing this because you always leave someone out – but I know when I counted this morning there was something like 13. That's nearly a full team.
"In two or three years time we should have an extremely solid, proper Division One team – what I'd call a good Monaghan, where we would become very competitive and any day you play us you would be expecting a game."
Your support
Support by Club Rossie, through your Membership contributions, is helping McStay and O'Donnell recoup their injured men and cultivate the kind of standard that is expected of a Division One team.
"Without the Club Rossie funding there are major aspects of what we do as a group of players and as management which we just could not do.
"If we didn't have that support then this could not be the sort of set up we want it to be. To have a good set-up it takes hard cash, hard money, and it has to be raised.
"If you want good standards in general you have to pay for those resources. We'd like to think that were using the funds extremely well and are getting good value from it.
"In a basic way we now travel as a group from Dublin down to training. The guys are extremely well looked after in terms of food and kit. The medical set up is second to none. In previous years it was very good, but now it has gone up to another level."
That improved medical support means that players who are out injured can now do their rehab with the team, something which McStay says is "one of the great aspects of the financial support".
"Being out injured is a terrible place to be in and I know that – I broke both of my legs and was out for 9 months or a year each time. If you're left to your own you can get very down about things.
"We are very careful about keeping them included and bringing them to meetings, to have them around the dressing rooms and know what we are about.
"They are all rehabbing with us every Tuesday and Thursday – that is what the Club Rossie money has enabled us to do."