Dear Supporter,
Since our foundation in 2014 Club Rossie has raised over €2 million to support the development of our games and the teams who represent our county. This has been made possible by you, by our Business Members, our Sponsors and patrons.
Despite having the fifth lowest population in the Republic we continue to produce teams who, at all levels, represent us with pride and passion and some success; as shown in our Connacht Under 17 and Senior Final victories and All-Ireland U17 Celtic Challenge Hurling title last year.
Your contributions have made this possible and on behalf of all of us in Club Rossie and all the players in all codes, thank you.
Going forward we know that we will always have greater challenges than bigger counties but we have to overcome these challenges and we will do so, together. Club Rossie, with the support of Roscommon GAA Officers, Clubs and Supporters are working to ensure that Gaelic Games in the county has sufficient funds to prepare our teams to be the very best they can be. To do this we need your continued help.
By joining Club Rossie and by spreading the message among your family and friends, you are making a difference. You are also contributing to your Club which will receive €50 for every membership sold in excess of their sales target.
As we embark on another year of possibilities we ask you to support our fundraising efforts on behalf of our teams. In return we promise that Club Rossie will continue to work unceasingly to ensure that those who wear the primrose and blue will be able to compete with the best, and be the best they can be.
On behalf of Club Rossie I would like to thank you for your support and generosity to date and ask that you please become a Member again in 2018. I have included details of the packages below for your consideration.
Yours in sport,
Pat Compton,
Chairperson, Club Rossie
Club Rossie is a sub-group of Roscommon GAA which has been given responsibility for raising money for the development of Gaelic Games in the county. Officers and Committee members carry out their duties in the service of Roscommon Gaelic Games on a voluntary basis.
2018 Packages
In 1943 Roscommon's Footballers captured All-Ireland Senior silverware for the first time; a feat which was impressivly repeated 12 months later. The 75th Anniversary of those major events is captured in the exclusive 2018 Club Rossie Polo, which forms part of Gold and Business Membership packages. Two Stars above the Crest reflect the All-Ireland double while the right sleeve acknowledges the years. The Polo will be available in Mens (S – XXXL) and Ladies (8 – 18) Fit.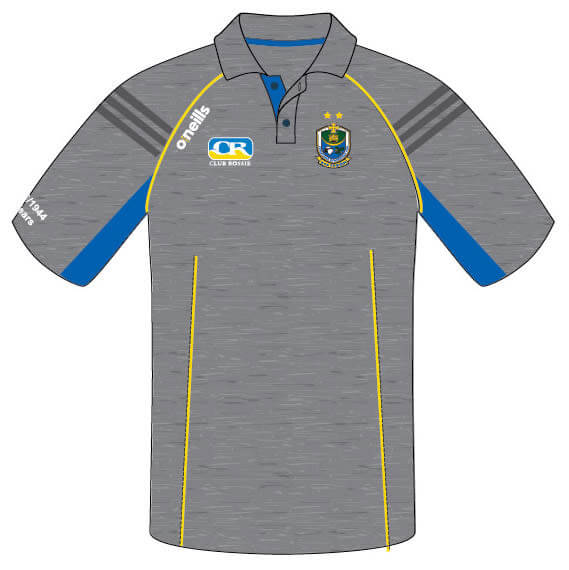 Prizes
The 2018 Club Rossie Members Draw is bigger than ever and features a €30,000 Cash Prize Fund plus the chance to win Hotel breaks, Shopping Vouchers and All-Ireland Final Tickets.
Bronze Membership includes one entry to the Draw and costs €100 while Gold Membership, which costs €230, now includes four entries into the Draw. All supporters that renew or join by March 31st will be entered into a special "Early Bird" Draw, where they can win a Hotel Break and a pair of passes to Roscommon GAA Club Championship games. The full list of Members Draw prizes is as follows:
Cash Prizes
Top Prize €20,000
Second Prize €5,000
Third, Fourth and Fifth prizes of €1,000.
Four x Prizes of €500
Hotel Breaks
(Listed in alphabetical order)
Kilronan Castle Hotel and Spa, Ballyfarnon
The Anner Hotel, Thurles
The Castleknock Hotel, Dublin
The Galway Bay Hotel, Salthill
The Johnstown Estate Hotel and Spa, Enfield
The Nuremore Hotel & Country Club, Carrickmacross
The Radisson Blu Hotel & Spa, Rosses Point, Sligo
The Spa Hotel, Lucan
The Twelve Hotel, Barna, Galway
Each Hotel Break consists of two nights Bed and Breakfast plus one Evening Meal for two.
Shopping Vouchers
Athlone Town Centre
Dundrum Town Centre
Match Tickets
Two All-Ireland Hurling Final Tickets
Two All-Ireland Football Final Tickets
Early Bird Draw
All supporters who join or renew by March 31st will be entered in a special Draw – the winner will receive a two-night Hotel Break at one of the above Hotels and a pair of passes to all Roscommon GAA Club Championship games.
Membership
Bronze Membership costs €100 and includes one Members Draw Entry, a Car Sticker and the usual benefits. Click here for full details and to renew or join.
Gold Membership costs €230 and now includes four Members Draw Entries, the exclusive Polo Shirt shown above, a Car Sticker and the usual benefits. Click here for full details and to renew or join.