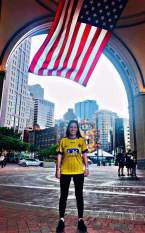 Club Rossie International Ambassadors is an exciting new initiative which will be officially launched shortly.
The idea behind this international recruitment drive is to connect with our international diaspora, show how strong and important community is within the GAA and ultimately to support in the continued success of the teams that represent our county at all levels.
Rossie ex-pats across the globe have come together to fly the primrose and blue high from the soft sandy beaches of Melbourne, Australia to the skyscrapers of New York city, and just in time for the all important Connacht Final!
Nessa Oates, originally from Roscommon Town and now living in Boston, is just one of the many Club Rossie Ambassadors on board and she couldn't wait to become affiliated. She is pictured above proudly displaying the "Primrose and Blue" at the New England Aquarium, Boston.
Although Nessa admits her new home is 'no Roscommon' she's happy within the strong Irish-American circles there and made GAA connections her first port-of-call when she arrived back in 2013. "I contacted the Boston Shamrocks Ladies Football Club to get involved straight away. I'm still very much involved and am currently on the GAA Northeast Divisional Board. It's great having a GAA community over here to be involved with- it definitely made my initial move here much easier and has played an important role in making me feel settled. It's a family away from home!"
Once a true Roscommon Gaels woman, Nessa explained the importance of keeping the ties with your community alive once you've emigrated and in the modern era, that is made all the easier – "Club Rossie social pages like Facebook and Twitter has made staying involved with Roscommon GAA so much easier. For me, it's been key in keeping up with all of the exciting developments happening back there, both on and off the field. Being able to stay so well informed and involved makes being so far away from home a lot easier" she added.
Nessa mentioned one thing she particularly watches out for when having a look at all the GAA news back home, "It's always nice to see a familiar face pop up on your (news) feed also. You do see the usual die-hards at every game and that always makes me smile".
She went on to explain how thrilled she was to be contacted for the new initiative and to get involved with Club Rossie all the way from the States, "they are doing fantastic work behind the scenes that a lot of people might not know about, they're definitely a huge factor to the successes we've had in recent years. We're a lucky county to have such support like that! I'm just glad to play a small part".
When pressed for a favourite memory of GAA glory days, the 2001 Connacht Final win over rivals Mayo stood out most to the full time social worker, "I was only a youngin' at the time but I'll never forget jumping the fence and running onto the pitch in celebration. The town was hopping for the week."
Fingers crossed that those scenes from Nessa's memory will be repeated many times over the years ahead!
Work on the Ambassador project is on-going behind the scenes. To find out more click here