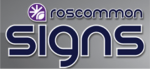 About
Roscommon Signs has been providing professional signage solutions since 1999.
They use state-of-the-art materials and innovative design to make sure your message gets noticed - and all at very competitive prices!
Whether you want branded vehicle graphics, banner display, safety and directional signs or property signs, drop in to Roscommon Signs and see what they can do for you.